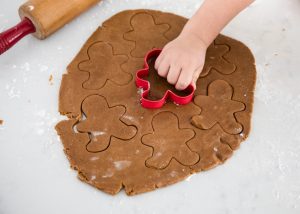 At Christmas, the children like to make gingerbread men.
Ingredients
350 g (12 oz) plain flour
2 teaspoons ground ginger
1 teaspoon bicarbonate of soda
100 g (4 oz) chilled butter or margarine
175 g (6 oz) light brown sugar
1 medium egg
2 tablespoons gold syrup
man-shaped cookie cutter
writing icing to decorate
Method
Heat oven to 180 degrees C (350 degrees F, gas mark 4).  Use a paper towel to wipe a little oil over two baking trays.
Use a sieve to sift the flour, ginger and bicarbonate of soda into a large mixing bowl.
Cut the butter/margarine into chunks and stir it in so that it is coated with flour.
Use your fingertips to rub the chunks of butter/margarine into the flour, until the mixture looks like find breadcrumbs.
Stir inthe sugar.
Break the egg into a small bowl and beat it with a fork.  Add the syrup to the egg and beat it in.
Add the egg mixture to the flour then mix everything together.
Using your hands, squeeze the mixture together to form a smooth dough.
Sprinkle a little flour onto a clean work surface and roll out the dough until it is about 5mm (1/4 in) thick.
Use cutter to cut out shapes and lift shapes (using spatula or knife) onto the baking trays.
Bake biscuits in the oven for 12-15 minutes, until they are golden brown.
Allow to cool for 5 minutes and then lift individually (using spatula or knife) onto wire rack to cool further.
When cold, decorate using writing icing.