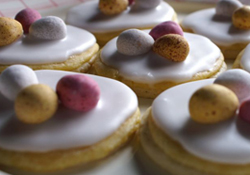 You will need:
3 oz caster sugar, plus a little extra for dredging
3 oz butter/margarine
finely grated rind of 1 lemon (optional)
6 oz plain flour
1/2 tsp mixed spice
2 oz currants
1 egg, beaten
Method:
Preheat oven to 190C,375F,Gas Mark 5.
Cream butter/margarine and sugar until pale.
Add lemon rind, then fold in flour, mixed spice, currants and enough egg to bind mixture to a stiff dough.
Roll out biscuit dough to approx 1cm thick and cut out bunny shapes or circles (you can squash these into ovals and call them eggs) with biscuit cutters.
Put on greased baking trays.
Re-roll any leftover dough to make more biscuits.
Bake biscuits in for 8 to 10 minutes until golden brown.
Sprinkle with extra caster sugar when still hot, then transfer to a wire tray to cool. Or wait until cooled and decorate with icing and mini eggs.