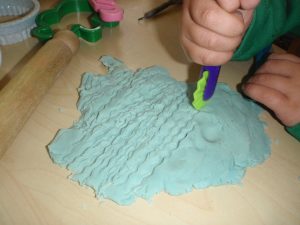 Our playdough is made by the staff here at St Philip's Marsh Nursery but it's also easy to make at home.
Ingredients
2 cups of plain flour
2 cups of water
1 cup of salt
2 tps of cream tartar
2 tbsps of oil
Colouring
Method
Mix all ingredients together well.
Cook in a saucepan for 3 minutes over a low heat.
Stir constantly.
Knead well (using extra flour if too sticky).
When cool, store in an air tight container.