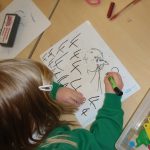 All children are entitled to 15 hours of FREE early education per week from the term following their third birthday.
In order to register your child for a place at St Philip's Marsh Nursery, please call the School office on 0117  977 6171.  You are very welcome to come and have a look round and complete the necessary application paperwork.  Alternatively you can complete the Family Information Application Form and post or email it to us.
All admissions are carried out in line with our Admissions Policy and Local Authority and national guidelines.
From September 2017 the School will be offering 30 hours per week for 38 weeks per year free education and care to families who meet the government guidelines.  Please download the St Philip's 30 hours brochure for further information.  The Nursery School will also be able to offer additional hours to families who may not meet these criteria.  We will be happy to discuss individual circumstances with you on application.  Further information can be downloaded 30 Hours Free Childcare – Eligibility and Childcare Choices Information Sheet – England.