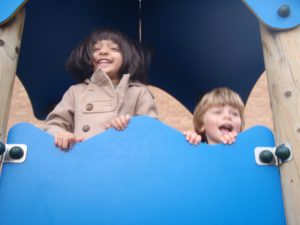 At St Philip's Marsh Nursery School we believe that personal, social and emotional development (PSED) is a key area of the curriculum and a cornerstone in the development of all children. Once a child feels safe and secure they are able to access learning in many areas.
We provide a warm and caring environment in which your child can flourish, begin to develop self-confidence, a positive sense of themselves, and others; to form positive relationships and develop respect for others; to develop social skills and learn how to manage their feelings; to understand appropriate behaviour in groups; and to have confidence in their own abilities.
Each class has a teddy bear called "Ted" who stays with each child.  Ted comes with a bag, clothes and a diary to show where he has visited and what he has done on his journey.  Each child has the opportunity to show the diary to their class and talk about Ted's visit to their house.